1. Plug in the power cord. Any standard outlet will do.
2. Lift the UVC arms upward and rotate the reflector outward so the bulbs point toward the area you want to disinfect.
A.

THE IMPORTANT PART IS THAT THE BULB SHOULD END UP FACING THE AREA YOU WANT TO DISINFECT – AND BE PARALLEL TO IT. SOUND COMPLICATED? IT'S NOT. IF YOU ARE DISINFECTING A FLAT SURFACE, THE BULB SHOULD BE EXTENDING OUT STRAIGHT, LIKE YOU ARE POINTING AT THE RISING MOON JUST ABOVE THE HORIZON.
B.

DISINFECTING A VERTICAL SURFACE, LIKE A WALL IN A SHOWER? – POSITION THE ARM, LIKE THE STATUE OF LIBERTY, STRAIGHT UP AND DOWN.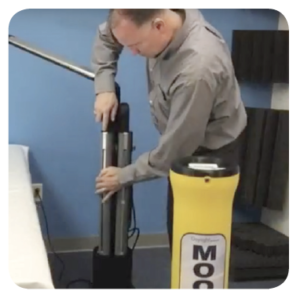 3. Exit the room and place the Remote Cover in front of the door, press the power button, if it is not already on, and Press "Start".
That is it!
The system will automatically run the cycle and show "In Process" while operating, and then "Process Complete" when finished. And of course, operation of the device is incredibly safe. There are multiple layers of safety that add up to a safe and sound operating environment.