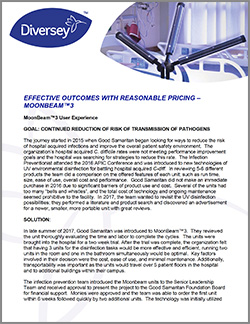 EFFECTIVE OUTCOMES WITH REASONABLE PRICING – MOONBEAM™3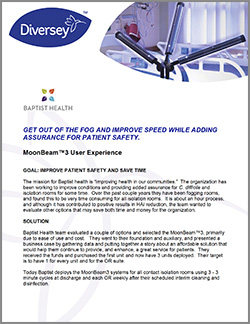 GET OUT OF THE FOG AND IMPROVE SPEED WHILE ADDING ASSURANCE FOR PATIENT SAFETY.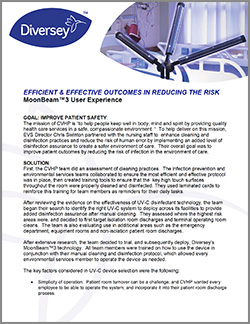 EFFICIENT & EFFECTIVE OUTCOMES IN REDUCING THE RISK

BETR Study
The use of chemicals (wipes, sprays, mists) are variably effective based on the chemical, wet time, and cleaning technique. However, the CDC (BETR* study) has reported that a combination of chemical and UV-C (ultraviolet-C spectrum light) is most effective on a wide variety of pathogens. While UV-C dosing is effective on "wiped" surfaces, the combination with disinfecting chemicals (including Quaternary Ammonium, Hypochlorite, Accelerated Hydrogen Peroxide, Phenolics, and Peracetic Acid) yields significantly improved results then either by itself.
*Implementation Lessons Learned From the Benefits of Enhanced Terminal Room (BETR) Disinfection Study: Process and Perceptions of Enhanced Disinfection With Ultraviolet Disinfection Devices. Infect Control Hosp Epidemiol. 2018 Feb; 39(2):157-163. doi: 10.1017/ice.2017.268. Epub 2018 Jan 14.