DOSE TIME
Four selectable cycle times starting from just 90 seconds
Effective cycle times (seconds): 90, 180, 300, 600
CONFIGURATION
EXCLUSIVE: Vertical and horizontal positioning
3-21" double-tube bulbs (effectively 6 bulbs); Highest UV-C Output per inch
95W (75mJ mercury low pressure soft glass emitters)
Highest UV-C Output per inch with parabolic focusing for maximum energy
UV-C SPECTRUM
DOSE
EXCLUSIVE: Three articulating heads can be positioned vertically and horizontally to "get the dose close" and direct the UVC light to broad area disinfection surfaces from six inches to more than seven feet from the ground and six feet outward
Uses only germicidal UV-C rays for maximum disinfection
Continuous max effectivity
FASTER, EFFECTIVE treatment using highest UV-C Output per inch of emitter (20 amp or 15 amp circuits)
DIMENSIONS
44" high
15" wide (when inside remote cover)
UVC head range: 6" to 84" high
Easily fits into tight spaces with the ability to disinfect an entire room
POWER
Use with 20 or 15 amp circuits
MOBILITY/CONSTRUCTION
Rugged build, compact, and light-weight to enable easy transport and ability to fit into tight spaces
Designed for easy deployment "when and where needed"
IDEAL APPLICATIONS
Single or multiple placement
Whole room treatment
Patient transport including EMT/EMS/ squad, med helicopter
Transportation including bus/rail
Hospital environments including patient rooms/bathrooms, ER, ICU, OR, isolation rooms , proven efficacy with terminal room disinfection
Lightweight, compact design permits mobility and placement anywhere
EFFICACY/VALIDATION

Designed to disable pathogens in direct, indirect and shadow areas
Third-party lab tested, verified results
FDA- and EPA-listed
ISO 13485 QSR
SAFETY
Safest solution: UV-C does not penetrate glass making it safe for passersby; device and remote blue tooth sentry and cover provide motion sensors and accelerometers to protect vehicle/room and personnel during operation
Accelerometers, infrared motion sensing, and high visibility colors to protect personnel during operation
Applied dose: > 75mJ at 2' (61 cm), 180 seconds
TARGETED DISINFECTION
NOTE: 11 of 13 Centers for Disease Control (CDC) targets are horizonal
Vertical, horizontal and multiple angle design for highly effective proximity to and angle of incidence, tailored to the application and easily moved for multiple dosing
OZONE
Disinfecting ozone generation*
High-output, germicidal UV-C lamps
COST
RECORD/LOG
Logs and use records export via Android App
COVID STATEMENT
UV-C in the 254-nanometer germicidal spectrum is effective on enveloped and non-enveloped viruses. COVID-19 is an enveloped virus; that is, the outer layer is a lipid membrane which is taken from the host cell in which the virus multiplies. SARS-CoV-2 (COVID-19) belongs to the beta CoVs category. These types have a round or elliptic and often pleomorphic form, and a diameter of approximately 60–140 nm. Like other CoVs, it is sensitive to ultraviolet rays and heat. Coronavirus is highly susceptible to germicidal UV irradiation. The susceptibility of coronavirus to UV is greater than 3x compared to the influenza (common cold) virus. MoonBeam3 tests on non-enveloped and enveloped viruses including coxsackieviruses, rotavirus, or poliovirus documented high-log reduction. As an adjunct to wipes and chemical cleaning, MoonBeam3 technology is extremely effective with >4 log reductions verified.
There are key parameters that go into designing a highly effective UVC disinfection technology. In "The Science" section, we define the aspects that control UVC dose and efficacy, but, in summary, one powerful underlying theme is that UVC is most effective when the dose is applied as close to perpendicular to the targets as possible.

The ability to apply a "perpendicular dose" is a critical, priority-number-one requirement, and the fact that MoonBeam3 is uniquely designed to apply a perpendicular dose is one aspect among many that sets it apart. To best understand that the unique, perpendicular dose is a significant differentiator, consider the surfaces that are being disinfected. Specifically, are the surfaces vertical or horizontal, e.g. the stretcher, the driver and passenger areas, the bed rail, the over-bed table, the toilet seat, the sink, keyboard, etc. Thirteen of seventeen CDC high-touch surfaces are horizontal, and the balance of surfaces are a mix of vertical and horizontal. Horizontal surfaces are best dosed horizontally. Using vertically oriented UVC bulbs applies only a fraction of the UVC generated to the horizontal surface. The laws of physics prevent vertical bulbs from effectively dosing horizontal surfaces. For vertical surfaces, absolutely, vertical bulb towers do a great job, and so does MoonBeam3, you simply set the arm vertically if that is the surface to disinfect. MoonBeam3 may be used like a tower, but a tower cannot be used like a MoonBeam3. MoonBeam3 offers unmatched versatility.
The ability to easily and quickly set any MoonBeam3 arm to perpendicularly dose any and all surfaces, regardless of physical orientation, is an absolutely powerful design feature, uniquely MoonBeam3. Additionally, among the many unique aspects, the true portability and compact form, wrapped in a sleek modern case, makes a strong visual appeal, adding an aesthetically pleasing look to a powerful disinfection technology.
Finally, of course, it is immediately relevant that our pricing is every bit as innovative as the technology itself.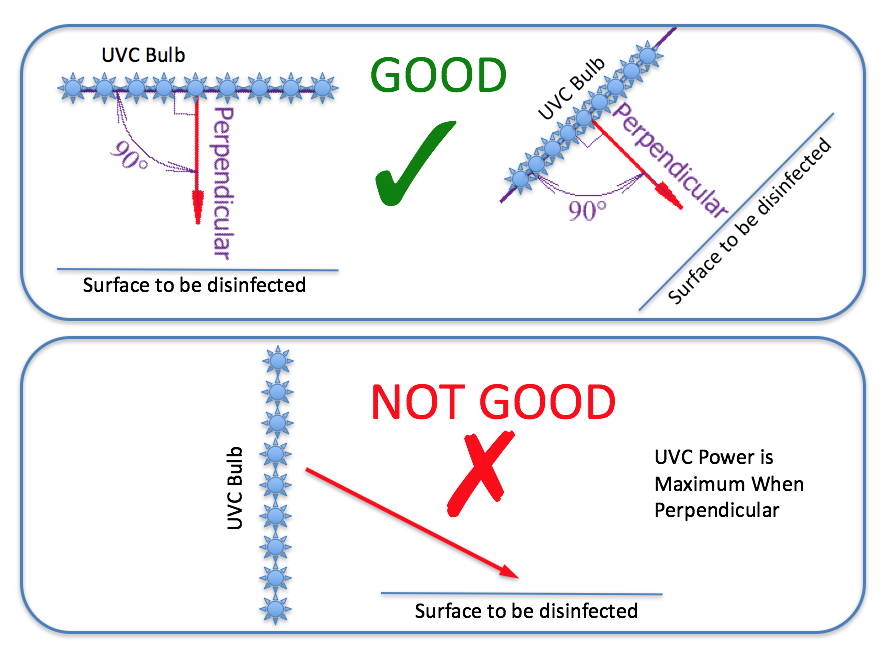 *Ozone is not the primary cleaning, disinfecting or sanitizing agent